It's my 3rd Tackle it Tuesday! And I'm having a slightly difficult time getting motivated to tackle anything.
My son has been building a fort/clubhouse structure for quite sometime now. He keeps changing the plans and has even completely taken everything apart and started over. I tried to get some pictures yesterday, but it was already getting too dark, and they didn't turn out very well - I'll try to get out there today and get some. Anyway, he wanted Dad to take him to Home Depot last night and get some more materials. However, Dad was VERY tired, as he had not gotten much sleep the night before at the station. So, he said to him, "Why don't you get all tomorrow's school work done tonight so we can go in the morning, and then you'll have all day to work on it." CJ liked that idea. So that's exactly what he did. He completed all his assignments by 10 pm (only an hour after 'regular' bedtime) that he could do on his own. That left some reading comprehension questions that we do together, and writing a rough draft of a poem in which he would need some instruction. He got up this morning and we completed those before breakfast. So basically, he has the day off now. Does that mean I have the day off too? Not likely, and I sure could use it as I could NOT fall asleep last night and I am dragging today! Hmmmm... Wednesday's are my day "off", maybe I could switch it to Tuesday this week? No, there's just too much to do, but I am getting a late start. It's a little after 10 am and I'm just now having my second cup of coffee. I'll kick in gear pretty soon.
Now, onto my tackle. I had ambitions of a bigger tackles today, but in my sluggishness, I think I'll stick to something smaller. Aside from a little laundry that needs to be completed, I need to investigate my refrigerator. For some reason, it has an overwhelming odor of.....mayonnaise!!! I'm guessing there may be some attached to something it shouldn't be, and I need to find it, because every time the door opens and closes, I get very nauseated. I love mayonnaise, but I can't stand this smell - it does NOT smell fresh from the jar!!! (I can't BELIEVE I just shared that!)
And my true tackle today will be my daughter's room. Although this is a regular tackle - at least twice a week. She loves to bring all her toys into the living room, and most of the time they all get tossed into a basket or something and shoved back in there. So I need to put everything away. It's a bet of a mess, mind you, not NEARLY as bad as it could be, so it won't take me very long.
Here are the before's of her room. I'll post the after's this evening.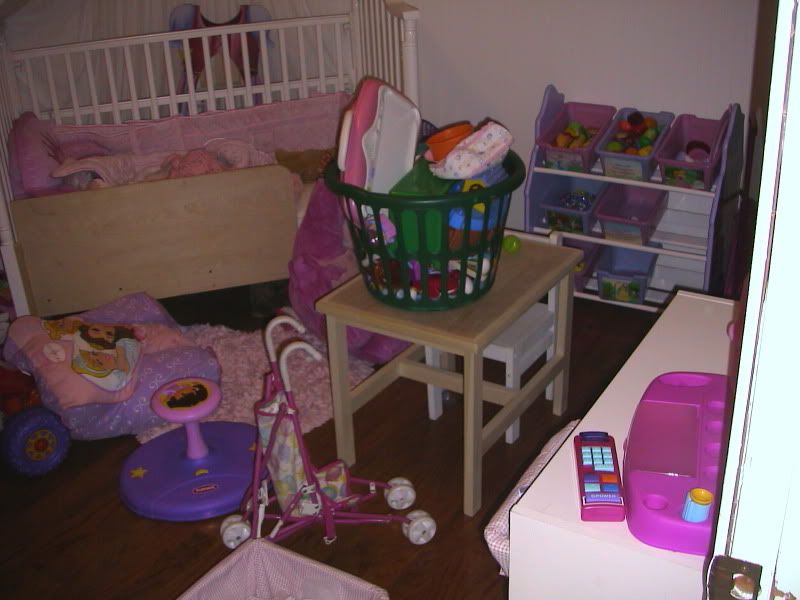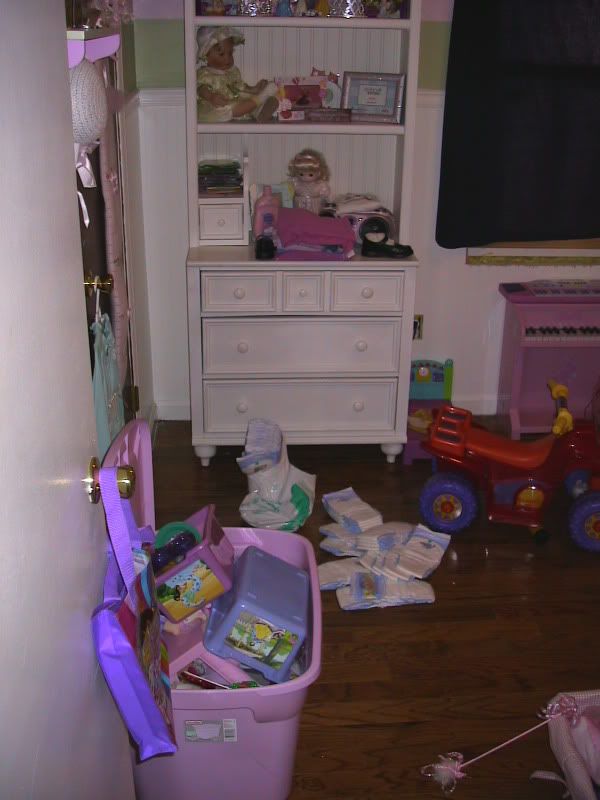 OK - update! I cleaned out the fridge. I did find an unidentified spill in the back, but I'm not completely convinced that's the culprit of the odor. I pulled EVERYTHING out and cleaned everything off, and the odor remains for now. I've added a container of baking soda, so hopefully that will absorb it. I just can't figure out what it is - and it's not like it's been there for a long time or anything. What a mystery!
As for Ruthi's room, it's all back in order - for now! I do need to tackle her closet still (the shelf at the top mostly), but I'll save that for another day. Here are the after pics.
And now looking at these pictures, I'm seeing what a very near in the future tackle needs to be - finish painting in here (the door, the table and the side hubby attached to the bed). And, I need to gently persuade him to trim out the window (we replaced the windows a little while back) so I can paint and get a blind and the pretty valance I bought put up, and get that stupid blanket off the window!! Oh well....another day.
CJ spent most of the day building on his clubhouse (or whatever he's calling it!) and I did get some pictures, but I'll put those in another post later. Right now, I'm going to watch American Idol!