Today is the BIG day!!! I am out of town, but thanks to my wonderful husband - I can make my announcement! He's letting me use his coveted laptop. This is a very big deal, as this is usually hands off to me! LOL! He's worried I'll clog it up or mess it up in some way - because apparently I'm the reason my computer runs so slow! But I promised him I wouldn't - so I'm crossing my fingers that this thing doesn't decide to malfunction, because I sure don't want to be the last one to have used it if it messes up! Anyway - Thank you my wonderful husband for letting me use it!!!
And now to what you came here for! What am I giving away?
Well, I thought about it, and since one of the suggestions was to give something away that was significant to our blog. My other blog is my craft blog, which is a huge part of me - so I'm giving away something I've made.
So, what is it?
It is a set of 10 handmade cards. I am actually starting a card & gift business, so I thought this would be a decent giveaway.
You will receive:
1 - Birthday card
1 - Thank You card
1 - Thinking of You card
1 - Sympathy card
1 - "Happy Everything" card
And
A set of 5 monogrammed note cards - ready for your monogram to be added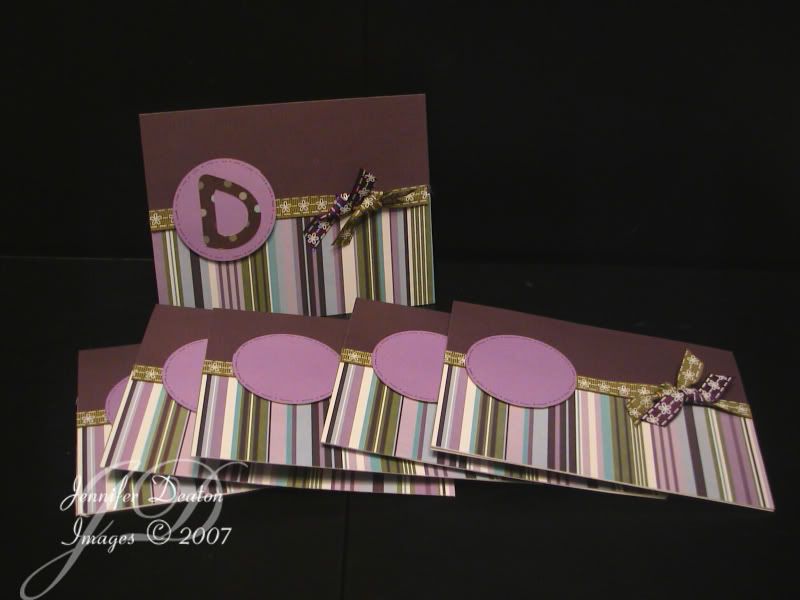 Note the sample monogram card - you will not receive this one. You will receive the other 5, and I will add your monogram before I ship them.
You will receive all 10 cards plus envelopes. The insides are blank so you may add your own sentiment. Except for the Sympathy card - there is a stamped sentiment on the inside, and you can still add a personal message.
I hope you find this a giveway you'd like to receive!
All you have to do to enter this giveaway is leave a comment and tell me what state you live in. (Saw that idea on another blog and liked it - thanks Lori!)
Ok - so that's it. When you leave a comment, make sure I have a way to contact you!
You do not have to have a blog to enter and win!!!
OK, I think that's it! Be sure to visit
Rocks in My Dryer
for LOTS more giveaways!(I just checked, and there are alreay 245 other bloggers giving something away!!)