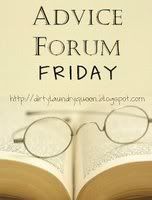 I finally need some advice! Ok, so I need advice all the time, but today I remembered a question to participate in Lori's Advice Forum Friday! I usually forget it's Friday or just can't think of a question. But today I have one!!
OK, For Christmas I generally make gifts for all of our extended family - Aunts, Uncles, Cousins...the works. This is not something that is expected of me, just something I really enjoy doing.
This year I'm trying to keep cost as low as possible, in light of our get out of debt plan. I know that I could just cut this out altogether, and now one would be upset at all. But this is for me - it is my favorite part of Christmas. So cutting it out altogether is not in my plan.
My plan is to
SIMPLIFY
. In past years I've done a variety of baked goods (as in often each person/family gets 2 or 3 different things) and have made some other gifts as well. So to simplify I'm thinking I'll only do one baked thing and let that be it.
Here's where you come in (the advice!): I'm thinking of doing mini loaves of bread. I'm thinking a sweet bread and a savory bread - a 2 bread package deal. What do you think? Is this good, or should I go with something else. (I do NOT want to do cookies - I made about 80 dozen last year, and though they were good, cookies are really not my thing.)
And if you think the bread is a good idea, what are some of your favorites? Can you share your favorite recipes? I would be very grateful!