I know I haven't blogged much lately. I've been a bit of a busy gal and it just hasn't left much time for blogging. Well, maybe I'd have time to blog if I didn't have so many blogs to read!
I've GOT to decide to "drop" some blogs from my bloglines, because I just can't keep up! But that's a difficult decision because each one in there is there because I enjoy reading it! Some of you people blog a LOT, and it's almost impossible to keep up!
Anyway...last week I was consumed with preparing for a wedding reception. My cousin Lindsey's wedding reception. My little Lindsey who used to live with us, and
how on earth
is she 20 now because I am still only 27! LOL! Oh, I am getting old!
So, I made a wedding cake, a groom's cake, and prepared the food. The challenge was that there would be no kitchen in the place where the reception was held. So I had to prepare foods that we didn't need to heat up and that we weren't too concerned about refrigeration either.
Ruthi, my Mom and I spent Friday night at my Aunt's house and she allowed us to use her kitchen to finish all the preparations. And she is one incredible hostess! (Thank you Joyce!)
I didn't manage to take too many pictures - I was too busy setting up and then making sure everything stayed full. (Which was mostly refilling the punch fountain!)
I have a few pictures of the cakes and food. As I was looking at the pictures, I noticed that they really do not do the food table justice. It looked so much better in person for some reason. The photos make it look odd for some reason. It's weird, because I know it looked much better when I was looking at the real thing. And it must have, because there were tons of compliments. But if I hadn't seen it for real, and only looked at the pictures, I wouldn't be impressed. Weird? Hmmmm...
Here's the wedding cake:
I don't do flowers. I make cakes. A florist usually will add the flowers. There was no florist. My Mom put the flowers on this cake for me. I think she did an amazing job.
Here is the Groom's cake:
Here's a shot of the food table:
And I can't even begin to tell you how much it's driving me nuts that the white tablecloth is pulled up in the middle and the yellow is sticking out. Nuts...I tell you!
And here's a close up of the fruit which was the "centerpiece" of the food table.
Here's Ruthi!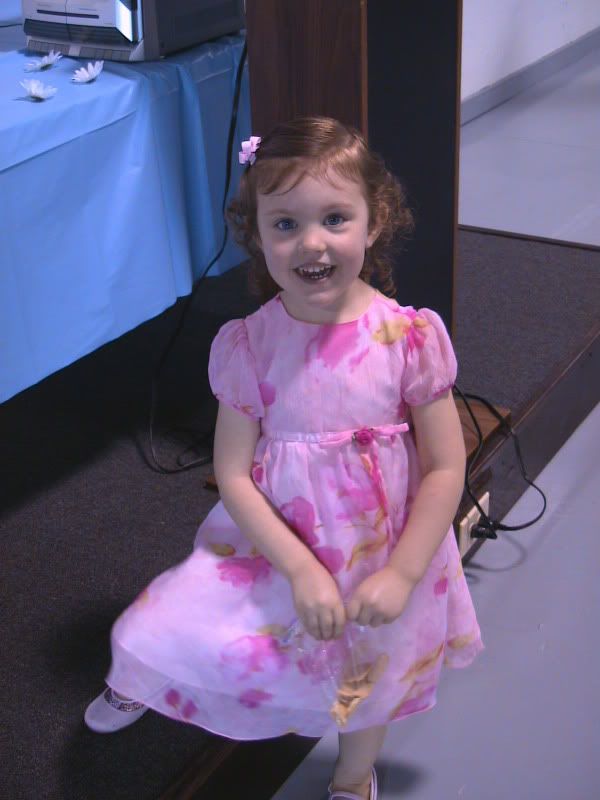 And one of Ruthi and Nana:
And somehow, I didn't manage to get a picture of Lindsey. Maybe my Mom will be so kind as to email me one!
Ruthi and I were planning to come home Saturday night. I was so tired though. Chip didn't really want me driving when I was that tired, so we stayed another night with my Aunt. We slept very well and woke up to a fabulous home-cooked breakfast. I was able to drive home fully rested and on a full stomach!
So that's what kept me busy last week. This week I've been working on some other things. I'm creating some items to put in themed baskets for a silent auction our homeschool group is having. They are raising funds to build a new facility. The one that is currently being used is busting at the seams!
So, I'm making some things that will hopefully help them, and help me at the same time by getting my name out there a little. And I'm working on some things to add to my Etsy shop. When I get these finished, and photographed, I will post them to my craft blog. But that probably won't be until at least Monday.
So see? I actually have a decent excuse for not blogging much...busyness!!!
May is a busy month, so I'm not sure it will get much better...but I'll try to keep up!