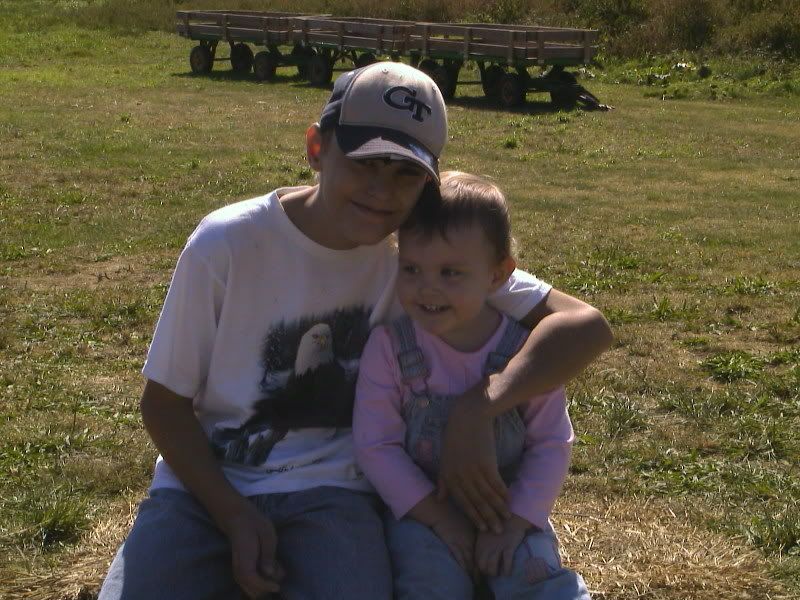 Today we went to Carlton Farms which is about 20 minutes from us. I was really wanting to go to a pumpkin patch this year, and we didn't want to have to go to far, so this was perfect. In addition to pumpkins, there is a corn maze, a hay bale maze for the little ones, a hay jump, hay ride and visiting the baby farm animals. We had so much fun. The weather was perfect - right around 70 degrees - not too hot or cold! We went through the corn maze first - 2 miles of corn maze on 5 acres! Ruthi was very content in her stroller and fell asleep before we made it through.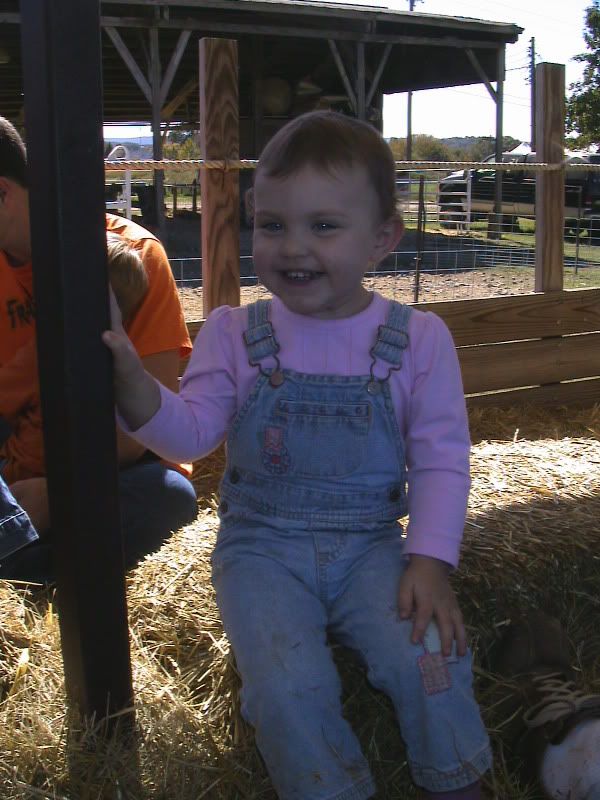 We moved on to the hayride, and she was still sleeping. We got settled in and were waiting for a few more people to arrive before we could go. While we were waiting, she woke and was very interested in what was going on, and seemed very much to like all the hay (and throwing it!)
This is a family owned dairy farm, and one of the sons was our "guide" giving us all the history as we rode. Every time he spoke, Ruthi would stare right at him as if she were hanging on to every word, soaking in all the information!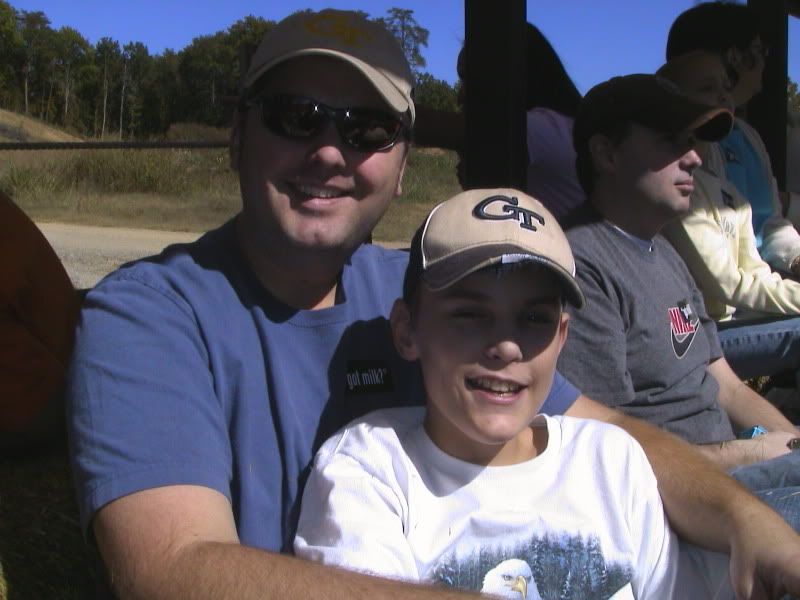 They took us into the pasture to see the cows - I forget how many there were - a lot! And most of them were pregnant. One had calved 6 days earlier, and we got to see that baby back in the barn. They stopped the wagon and all the cows came right up near us.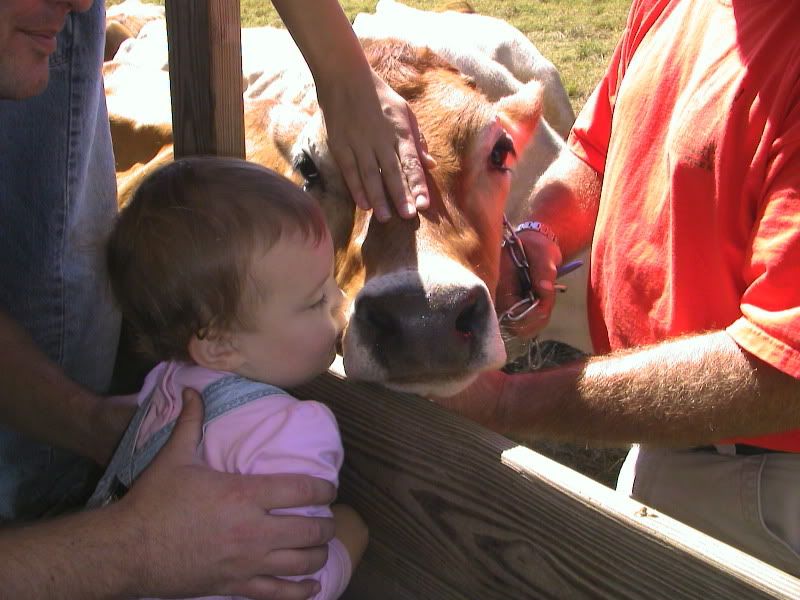 We were all holding out hay for them to eat, but most of them weren't very interested. Our driver was bringing one of the cows around to everyone so we could get close enough to touch it. I think Ruthi was a little bit intimidated by this large creature, but she was still willing to give her a kiss on the snout!! And she kept saying "COW" over and over! After the hayride, we went into the barn to see the baby animals. Suprisingly, Ruthi wasn't nearly as interested in them as I expected her to be. Maybe because she couldn't pick them up and hold them!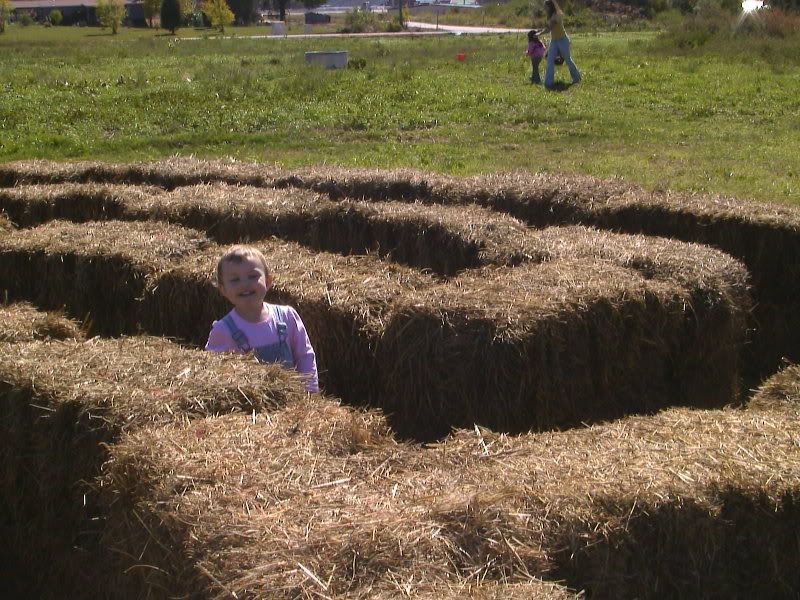 Then we moved on the hay jump, which was really just a bunch of big piles of hay to jump into. CJ jumped around in there for a minute, but Ruthi wasn't too impressed. So we moved on to the hay bale maze. She loved that, running through it as if she knew exactly what she was doing. It ended with climbing up to a bridge and coming down a slide to get out.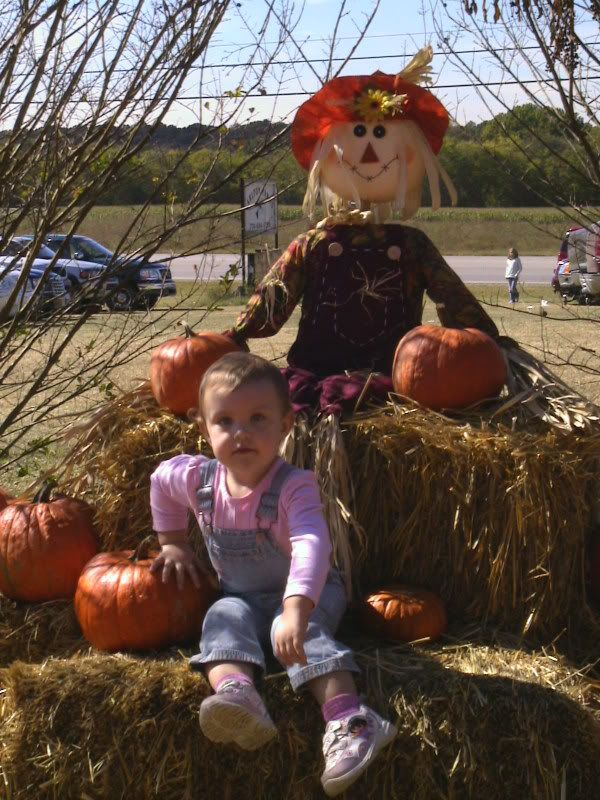 Finally, we went to the pumpkins to pick a couple out. Ruthi was running around hugging all the giant pumpkins. She found one just the right size for her and picked it up to carry, so I told her to take it to Daddy - and she did. CJ then picked one out. We took a few photos, and headed home. Once we got home, Chip and CJ built a scarecrow and we decorated the front porch. That was a lot of fun, as we have never really put out fall decorations before. We had a great day, and were pretty tired, but then headed toward the Airport to meet my parents for dinner, as they had just flown in, coming home from their cruise. We had a very nice dinner at Johnny Carino's. Needless to say, we slept very good last night after having such a busy day! Here is a picture of CJ and Ruthi with the pumpkins they picked, and a picture our new front porch friend - he may be a little goofy looking, but that's ok! We like him!