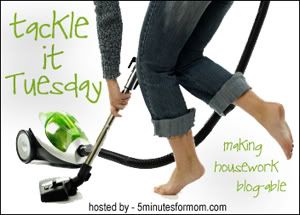 I really am trying to get back into the swing of blogging, so what better way than to participate in these carnivals to get me going again! Yesterday was the menu, today is the tackle!
This will be slightly boring, as I didn't get any pictures, but I did tackle two things for today. I actually did these yesterday. If I had waited until today, this post would end up being put up late tonight, and I wanted to get it up early!
The first was a pretty big one for me. One that I'm embarrassed I put off for so long. It was my car! It was really bad. I just didn't mess with it while it was cold, and even on the warm days, I had better things to do. So I finally decided to get it done.
I was planning to take it to the car wash, clean it out and vacuum it there. But that would have just given me another reason to put it off some more. So I decided to get in there and clean out the junk and then take it to the car wash and vacuum it.
After I got all the junk out, I wanted to vacuum it right then, so I decided to just do it at home. My vacuum worked great, and it's like a new car! I then pulled out the Armor All and went to town making everything clean and shiny.
I still need to take it and wash it. I would love to be able to do that at home, but thanks to the drought that seems as if it will never end, our water restrictions don't allow that. But it is so much nicer on the inside now, and it feels good!
My second tackle was my front porch. A much smaller and quicker tackle, but another one I've been putting off. I knocked down cobwebs, swept everything off and removed the junk. Much better now!
And as a bonus, my daughter really enjoyed the day. It was so beautiful outside! She played and played while I sat on the porch and played on the computer. I would have played with her, but I wasn't feeling my best. I don't know what gave me the energy to finally get up and complete my tackles! But she loved helping me out with them as well, and she had a blast. This child LOVES to help me clean. I hope that doesn't change when she gets older! It would be so awesome if, when she's grown and married, she actually enjoys cleaning her house!
If you want to see what every one else is tackling, be sure to visit
5 Minutes for Mom.