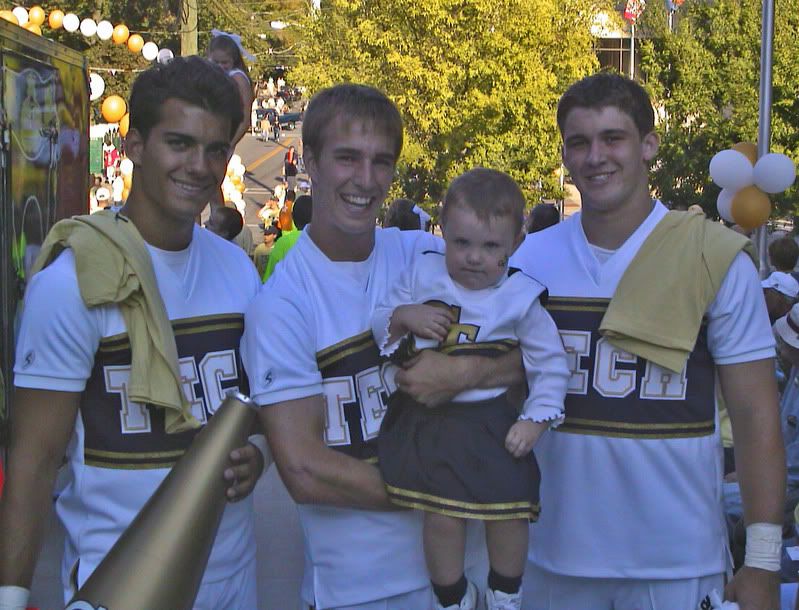 What a day! And what a great time. Due to some things that came up, we didn't go to the Aquarium, but that's ok - we'll go another day when we have more time. We did have lunch at the Varsity - YUM! Then off to Wreckfest before the game. We got there early, so there weren't many people there yet. And Ruthi was the center of attention. The DJ guy was calling her the energizer bunny because she ran all over that place non stop! She even made friends with 3 people who were there hanging out "stealing" the girl's balloon animal. They were cracking up, getting Ruthi to "give them 5" and taking pictures of her. She was "crowned" the youngest cheerleader. And CJ was declared "King" for kicking a soccer ball into a goal. They had some fun things to do. Ruthi sat perfectly still in Daddy's lap to get her face painted. And when choosing souvenirs, she had to have 2, not just one!
Unfortunately we missed the player and band walk by just minutes, so my jersey didn't get signed. But a few of the guys (I guess they were cheerleaders?) graciously stopped for a photo op with a certain little cutie.
I ended up very disappointed, because I couldn't take my camera into the stadium. I didn't know the rule (obviously I haven't been to many sporting events!) about no video cameras. And since my digital camera is also a video camera, even though I showed them there was no disc in it, they wouldn't budge. I think they even felt a little bad. So, sadly, no pictures "from the inside". But I got as many as I could before hand. We had a great time and best of all, WE WON!!!
Chip borrowed the card from the camera today, so I can't download my pictures since they are on the card. But he did email me a few, so I could post them. I'm sure there are some others that are too cute, so maybe I'll get them on here later.
CJ is "King"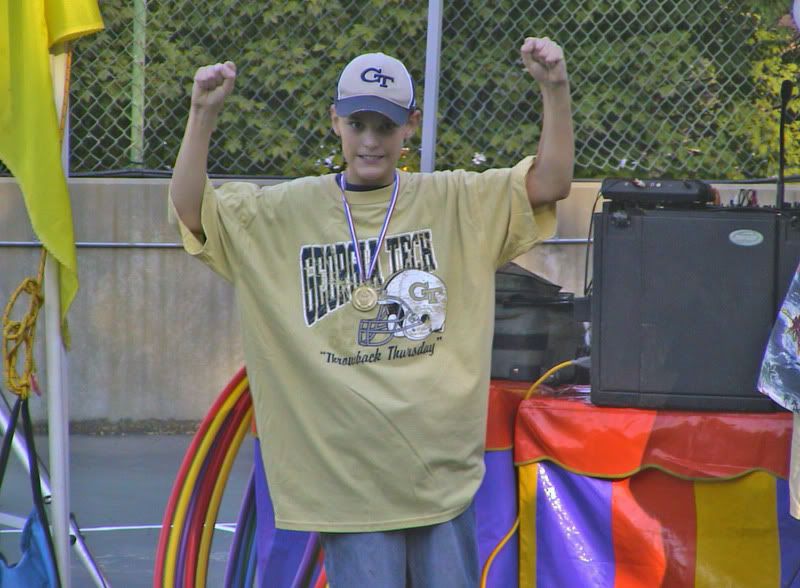 Ruthi's painted face.....
And all tuckered out....